How to Create a Private Outdoor Space
A comfortable and private outdoor space is a valuable asset for any homeowner. With the right patio cover and privacy solutions, you can transform your backyard into a secluded oasis where you can relax, entertain, or enjoy family time. In this blog post, we will discuss various patio cover options and privacy ideas to help you create the perfect outdoor retreat. Trust Buildometry to provide expert advice and quality services for your patio cover and privacy projects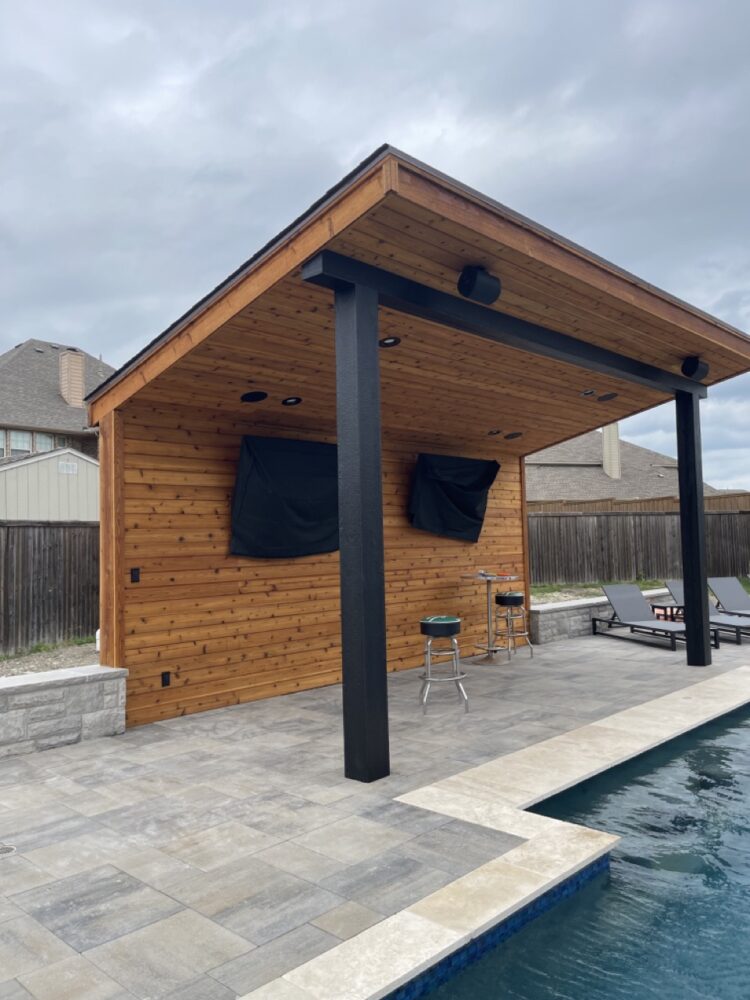 Patio Cover Options
Patio covers provide shade and protection from the elements, making your outdoor space more enjoyable and functional. There are several patio cover options to choose from, including:
Pergolas: Pergolas are open structures that can be adorned with climbing plants or outfitted with fabric or retractable shade systems. HGTV offers a variety of pergola design ideas for your outdoor space.
Gazebos: Gazebos are freestanding structures with a solid roof and partially enclosed sides, providing shade and shelter while maintaining a connection to the outdoors.
Solid Roof Patio Covers: These structures provide full coverage from the sun and rain, making them ideal for homeowners who want a completely shaded outdoor space.
Outdoor Privacy Solutions
Creating privacy in your outdoor space can be achieved through various methods, including:
Fencing: A fence can provide a solid barrier, adding privacy and security to your outdoor space. Materials such as wood, vinyl, and aluminum are popular choices.
Landscaping: Strategic planting of trees, hedges, or shrubs can create natural privacy barriers while enhancing the beauty of your outdoor space. HouseLogic offers tips for using plants to create privacy in your backyard.
Privacy Screens: Freestanding or wall-mounted privacy screens can be made from various materials, including wood, metal, or fabric, and provide an attractive and flexible solution for creating privacy.
Combining Patio Covers and Privacy Features
Combining patio covers with privacy features can create a cohesive and functional outdoor space. For example, you can:
Integrate privacy screens or curtains into your pergola or gazebo design.
Use landscaping around the perimeter of your patio cover to create a natural barrier.
Build a custom solid roof patio cover with integrated privacy walls or fencing.
Customizing Your Outdoor Space
Once you've chosen your patio cover and privacy solutions, consider customizing your outdoor space with additional features such as:
Outdoor lighting to create ambiance and extend the usability of your space into the evening.
Outdoor furniture and accessories that complement your patio cover and privacy features.
An outdoor kitchen or bar area for entertaining guests.
Working with a Professional Contractor
To ensure the success of your patio cover and privacy project, it's essential to work with a reputable and experienced contractor like Buildometry. Our team of professionals can help you design and install the perfect patio cover and privacy features for your outdoor space, ensuring that your vision becomes a reality.
Creating a private outdoor space with a patio cover and privacy features can greatly enhance the enjoyment and value of your home. By considering various patio cover options and privacy solutions, you can transform your backyard into a secluded oasis perfect for relaxation, entertainment, and family time. Trust Buildometry to provide expert advice and quality services for your patio cover and privacy projects, ensuring that your outdoor space becomes the perfect retreat you've always envisioned.
As you explore the different patio cover options and privacy solutions available, remember that the key to a successful project lies in selecting features that best suit your needs, preferences, and budget. With careful planning and the help of a professional contractor like Buildometry, you can create a beautiful, private, and functional outdoor space that will serve as a cherished extension of your home for years to come.
If you're ready to start planning your patio cover and privacy project, don't hesitate to contact Buildometry today. Our experienced team is dedicated to helping you create the perfect outdoor space, combining beauty, functionality, and privacy to enhance your home and lifestyle.