Add a Touch of Elegance to your Backyard with a Pergola
As you look to enhance your outdoor living space, you might be considering various additions like decks, patios, or gazebos. But have you ever thought about a pergola? Pergolas are unique, versatile structures that offer both style and functionality. In this blog post, we will explore the benefits of building a pergola, and how it can add a touch of elegance to your backyard. Let's dive in!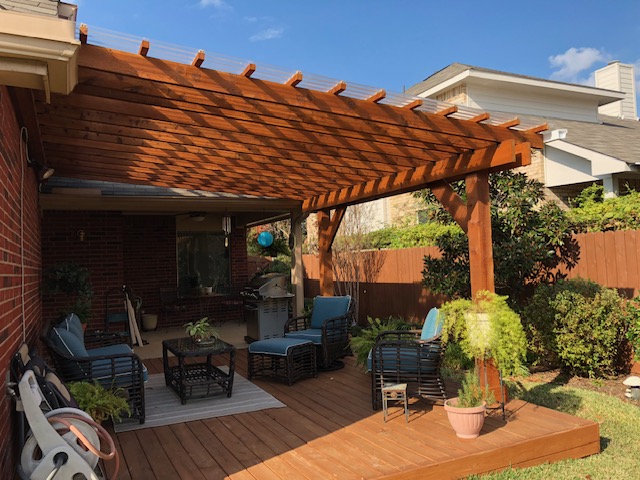 Adding Architectural Interest
A pergola can provide a visually striking focal point to your outdoor space. With its vertical and horizontal elements, a pergola adds depth and character, making your backyard more inviting and aesthetically pleasing. There are countless design options, from traditional to modern, to suit your personal style.
Providing Shade and Comfort
One of the main functions of a pergola is to offer shade and protection from the sun. By adding a canopy or installing slats or lattice, you can create dappled sunlight, making your outdoor space comfortable even on the hottest days.
Extending Your Living Space
A pergola can serve as an extension of your indoor living space. By adding comfortable seating, a dining table, and even an outdoor kitchen or bar, you can create an additional room for entertaining guests, dining al fresco, or simply relaxing with a good book.
Enhancing Privacy
While pergolas are open structures, they can still provide a sense of privacy. By adding curtains, lattice panels, or climbing plants, you can create a more secluded space to escape from the outside world. This can be especially useful if you live in a densely populated area or have neighbors with a clear view of your backyard.
Increasing Property Value
Adding a pergola to your outdoor space can also increase your home's value. A well-designed and maintained pergola can make your home more attractive to potential buyers and help you recoup some of your investment when it's time to sell.
Supporting Garden Growth
For gardening enthusiasts, a pergola can serve as a beautiful support structure for climbing plants and vines. Not only do these plants add visual interest and shade, but they can also create a lush, green oasis that attracts birds, butterflies, and other beneficial wildlife. Visit your local nursery or consult with a landscape professional to find the best plants for your pergola.
Pergolas are versatile and attractive additions to any outdoor space. They provide shade, enhance privacy, support garden growth, and create a stylish, functional living area. By investing in a pergola, you'll not only improve the aesthetics of your backyard but also increase your home's value and create a space your family and friends will love.
When planning your pergola project, consider consulting with a professional design and construction team like Buildometry to ensure the highest quality results. Our experienced team can guide you through the entire process, from design to material selection and installation. Contact us today to discuss your vision and get started on creating the perfect pergola for your outdoor space.
Contact Buildometry today to get started!