Crafting Year-Round Outdoor Spaces
Here in Texas, our climate affords us the opportunity to enjoy the outdoors comfortably virtually year-round. At Buildometry, we're passionate about creating beautiful, functional outdoor living spaces our clients can enjoy anytime of year. We are of the belief that life is too short to spend it cooped up inside, and so we design and build to get – and keep – you outside longer. Having functional outdoor living space can:
expand the space available for entertaining
create opportunities for relaxation and leisure
provide for outdoor cooking, including grilling and smoking
beautify the yard
increase home value
As outdoor spaces have soared in popularity in recent years, so has the list of features available for creating outdoor living. Today, it is possible to have the perfect outdoor "room" for your home. At Buildometry, we love making this possibility a reality for our clients.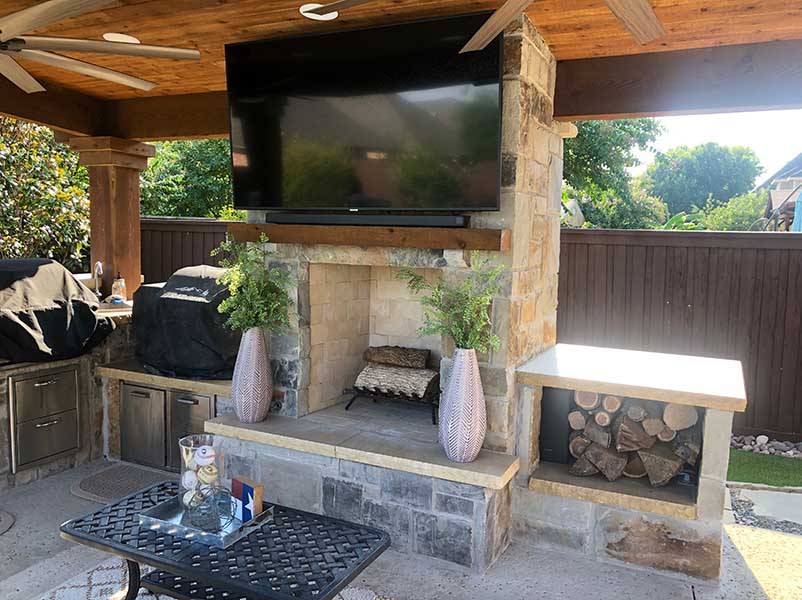 Outdoor Living Options
What works for the client will vary based on lifestyle, budget and space available, but some of the more common features we build include:
Outdoor Kitchens
Outdoor kitchens are one of our most common requests. Grilling is a favorite American pastime. Smoking has grown in popularity as well, and we're building more spaces to accommodate smokers like The Big Green Egg. Covering your grill and/or smoker will extend the life of the unit. It will also make for a more enjoyable cooking experience when raining or when there is direct sun. We can build into existing eaves and patios or build new covered structures. Our scope includes standalone structures and fully tied-in patio covers. We build outdoor kitchens big and small. We've got the skills and expertise to capitalize on the space and the design experience to make it beautiful.
Going beyond grills and smokers, we can build in all the extras you want to fit your lifestyle, including:
Outdoor refrigerators
Wine chillers
Griddles and stove tops
Sinks
Built-in coolers
Misters
Fans
Specialized lighting
Outdoor Fireplaces
Covered and inset TVs
Outdoor Dining
Alfresco dining is one of life's simple pleasures. There are many options for creating the perfect outdoor dining space, and these include:
Decorative concrete patios and decks to place the perfecting dining set
Bar seating
A pergola-covered grassy space in the yard to cover a table and chairs
Casual seating arranged around the fireplace of a covered patio
Buildometry constructs decorative concrete patio floors and decks of all sizes. We build patio covers and pergolas, ornate and simple, designed to last. Whether you already have the vision of your perfect outdoor dining spot, or are looking for recommendations and guidance, Buildometry is your solution.
Outdoor Fireplaces
Nothing makes a statement like an outdoor fireplace. And, nothing sets the mood like an outdoor fire. At Buildometry, we work with our clients to design a fireplace that looks and functions beautifully in their yard. Starting with the size and type, we will discuss options and functionality. We build both wood burning and gas units and can advise you on the option that makes the most sense for your space and lifestyle. At materials selection, we'll discuss your budget and dive into design aspects. Gone are the days of one standard look, we build gorgeous mantles and handsome hearths. Understanding the role they play in the overall look, we take the time to really consider the design of the fireplace facing. We can create brick accent designs, build in rock detail and tie in Austin stone or solid wood mantles. We can build in a spot for a TV over the fireplace. We can build in nearby seating. Bottom line, we'll study your lifestyle and budget, and collaborate on options to come up with the perfect outdoor fireplace for your home.
Fire Pits
Outdoor fire pits are truly having their moment. They have become a popular addition to outdoor living spaces, and for a good reason. Fire pits can bring a bit of drama to an otherwise dull backyard. They can be a focal point for the yard. Fire pits provide warmth and wonderful ambiance, creating the perfect place to gather with friends and families on a cool evening.
Modern fire pits come with many options, including:
Type – We build both wood and gas burning fire pits. Both are beautiful. Many are drawn to the convenience of gas burning pits – fire with the flip of a switch, or turn of a knob. And with gas, there is no wood or ash to deal with. When you are ready to retire for the evening, you simply turn off the gas. But, sometimes bringing gas to the fire pit area is cost prohibitive or functionally impossible. And, many of our clients are drawn to the crackle and smell of a real fire.
Size and scope – We can build small, simple fire bowls. We can build large fire pits, even ones with built-in seating. We build round and rectangular pits. We build to suit your space and taste.
Materials – There is a wide array of stones and bricks available for fire pit construction. We can build your pit to blend in perfectly with your home and outdoor space.
Ground surround – We can do all sorts of ground surrounds with fire pits, including decorative concrete, brick, fire-resistant composite, crushed granite, flagstone and other pavers.
The finishing touch on your fire pit will be the topper, also known as medium or media. The most popular toppers today include lava rock and glass. Both have unique benefits, but the choice often comes down to aesthetics. Lava offers more of a rustic look, glass more modern.
Privacy and Shade Walls
Sometimes all that is needed to make an outdoor space ideal is a screening structure. We build privacy and shade elements that blend beautifully with the space. Some of our favorites include:
Horizontal wood fences
Trellis walls
Decorative stone dividers
Year-round outdoor living is possible with thoughtful design and construction. An outdoor living space will boost your home's value and enhance your quality of life. With over 30 years of building experience, you can trust us to build your outdoor living space. We've worked hard to develop a strong team of talented craftsmen and have fully vetted our subcontractors. From the design phase forward, you will be in good hands. We assist our clients with HOA approvals, when necessary, and obtain all applicable permits. We standby ready to collaborate or advise on design choices and products. We're owner operated so you can expect to see us on the jobsite regularly.
Ready to get outdoors? Contact us today to get started.