Finance your outdoor living project with predictable, monthly payments!
FEATURED PROJECT
This extensive project in Combine, TX involved full demolition of an existing patio and overhang. We designed a massive custom integrated A-frame patio cover with an 18′ ceiling. It transitions to a large connected pergola at one end. Tongue-and-groove ceilings, recessed lighting and a large overhead fan complete this outdoor living space, perfect for relaxing or entertaining all year long.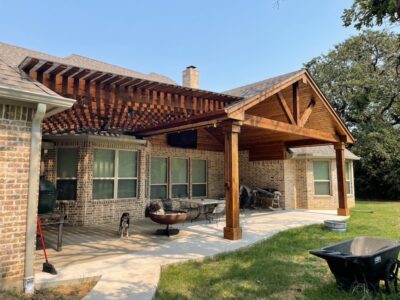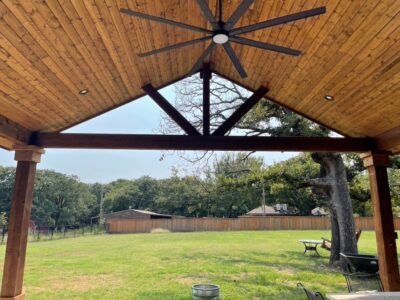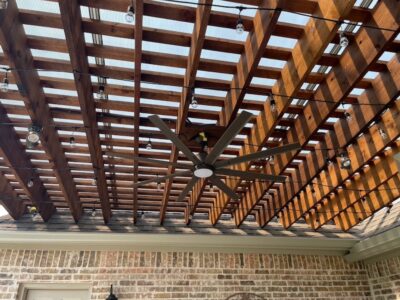 ---
SEE WHAT OUR CUSTOMERS SAY!
★★★★★
"Ronnie Natali of Buildometry and their renovation team did an amazing job on our Pergola. Stone work, mortar work, cedar additions and staining, all done exceptionally well. Every member of their team were very prompt and professional!! Thanks again!" – Lisa G.
★★★★★
"Ronnie and his team transformed my backyard into a beautiful living space with the turf they installed last year. The work was completed on time and with the utmost professionalism. I would trust Buildometry on any future outdoor project." – J. Hollis
★★★★★
"Ronnie and his team did a fantastic job with building our outdoor patio. Everyone was very respectful and before the crew left each day the POC checked to make sure we were happy. Ronnie keeps integrity and quality at the forefront of his business. My family and I saw that in every discussion and the product he delivered. I highly recommend Buildometry!"
★★★★★
"Ronnie was extremely professional, punctual, and great to work with. We had a great experience with Buildometry. They were very efficient for the entire process. Me and my husband would highly recommend to anyone. Job was done thorough and exceeded our expectations! Thank you Buildometry and Ronnie!" – Reagan G.