Enjoying Your Outdoor Space with Motorized Patio Screens
When it comes to enjoying your outdoor space, convenience is key. Whether you're relaxing with a book, entertaining guests, or simply enjoying the fresh air, you want to be able to do so without any hassle. That's where a motorized patio screens come in.
At Buildometry, we offer a range of motorized patio screens that can be easily controlled with just the touch of a button. Here's why this convenience is a game-changer for your outdoor living space.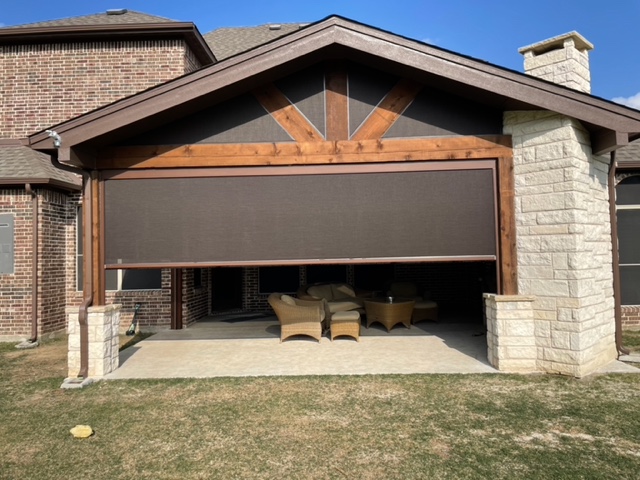 Say Goodbye to Manual Labor
One of the biggest benefits of motorized patio screens is the ease of use. With traditional screens, you would have to manually raise and lower them, which can be a hassle. With motorized screens, all you have to do is press a button on a remote control or an app on your smartphone, and the screens will retract or extend automatically. This eliminates the need for manual labor, which can be especially beneficial for those with mobility issues or physical limitations.
Enjoy Your Space Year-Round
Remote-controlled patio screens allow you to enjoy your outdoor space regardless of the weather. If it starts to rain or the sun gets too intense, you can simply extend the screens to protect yourself and your furniture. And when the weather is just right, you can retract the screens to fully enjoy the beauty of nature around you. With motorized screens, you can easily transition your outdoor space from season to season, making it more versatile and enjoyable year-round.
Maximize Your Space
Motorized screens can also help you maximize your outdoor living space. By enclosing your patio or outdoor area with screens, you create an additional room that can be used for various purposes. For instance, you can turn it into a cozy reading nook, a dining area, or even an outdoor home theater. With the ability to easily retract the screens, you can quickly switch between an enclosed space and an open one, giving you the flexibility to use your outdoor space in a way that suits your needs.
Customizable to Your Needs
Another advantage of motorized patio screens is that they can be customized to fit your specific needs. You can choose from a variety of materials, colors, and sizes to match your home's style and architecture. Additionally, you can opt for screens that block out UV rays, reduce glare, or provide additional privacy. With so many options available, you can create a personalized outdoor living space that fits your lifestyle and preferences.
Invest in Your Home
By installing remote-controlled patio screens, you're not only investing in your own comfort and convenience but also in your home's value. An outdoor living space that is functional, stylish, and easy to use can significantly increase your home's curb appeal and overall value. It's a worthwhile investment that can pay off in the long run.
In conclusion, motorized patio screens offer a level of convenience and versatility that traditional screens simply can't match. With just the touch of a button, you can protect yourself and your furniture from the elements, create a new room for your home, and customize your outdoor space to your liking. At Buildometry, we offer a range of motorized screens that are designed to make your outdoor living space more comfortable and enjoyable. Contact us today to learn more about how we can help you create the ultimate outdoor oasis.