Advancements in synthetic grass have made this landscape design element an enviable solution for homeowners and business owners looking to cut costs, address allergy concerns and maintain the look of beautiful grass year-round.  At Buildometry, we've done the research, so we can recommend and properly install the perfect product for your home or business.  If you are in the market for an attractive, durable, and widely functional ground covering that will last for years to come, look no further than artificial turf.
Cost Savings
When you begin to consider what all is involved with maintaining a lawn, the cost savings associated with artificial turf really start to add up. Consider:
irrigation costs, which especially rise in hot, arid regions like Texas where water restrictions are common
mowing and edging costs
fertilizing costs
the cost of time spent mowing and edging
the environmental costs of getting water to drought-stricken areas ill-suited for the more common, water-loving grass species used in traditional lawns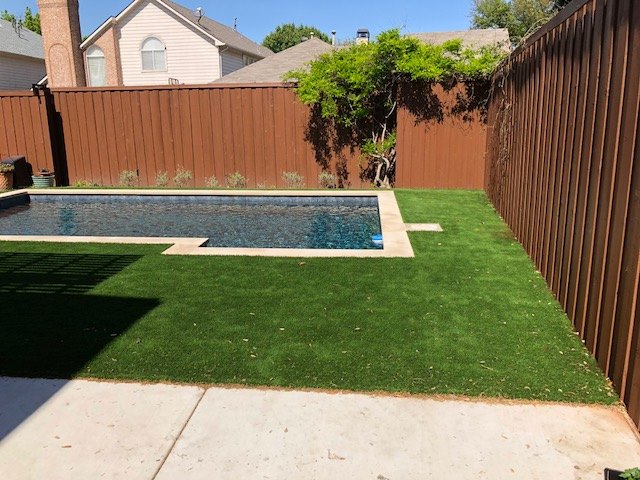 With artificial grass, all of the above is eliminated. Time that has been dedicated to maintaining the yard turns into time that can be spent with the family, or in pursuit of a hobby, growing the business or simply relaxing.
Soft, Even, Allergy-Free Ground Covering Year-Round
In addition to the cost savings, artificial turf brings beautiful, practical and user-friendly benefits to residential and commercial landscape designs.
Always Green
Perhaps one of the biggest benefits of all, artificial turf stays green year-round. There is no dormant period. There is no summer heat fading. You get a fresh-mowed look perpetually. Artificial turf has no sunlight requirements. It works just as well in dense shade as it does in a sunny location.
Holds Up Under Foot Traffic
When heavy foot traffic is a concern, artificial turf is a practical solution. No concerns with tamp down, damage or inhibited growth. No post-rain mud tracked into the home or business.
Kid and Pet Friendly
Because it is 100% grass-free, artificial turf will not trigger those with grass allergies. People and dogs can romp, roll and nap comfortably without the worry or frustration of rashes or itching. Even better, most modern turf products include antibacterial enhancements to keep the surface healthy. Combine that with the fact that pesticides and fertilizers are never needed, and artificial turf becomes the ideal solution for children and their furry friends. And, speaking of the dog, you'll be happy to know that artificial turf is not damaged by dog urine or excrement. Fido can do his business and you'll be out of the business of worrying about the grass.
Expert Installation Makes the Difference
When it comes to artificial turf, the prep work is critical to the end result. A good foundation is a prerequisite for success. When the ground is properly prepared, the turf will create a smooth, flat surface free of low spots that could hold water or mounds that could create potential tripping hazards. It will effectively drain rainwater. It will not buckle, shift or separate. Experienced with the product, Buildometry guarantees a quality artificial turf installation.
Numerous Applications
Artificial turf is an excellent solution for:
residential lawns
pool-adjacent ground cover
business fronts
high-traffic areas
outdoor employee break areas
densely shaded yards where grass growth isn't possible
putting greens
playgrounds
dog runs
We offer competitive pricing, guarantee expert installation and source some of the most-advanced products on the market today. Contact us today to discuss artificial turf options for your home or business.