Concrete is Not "Just Concrete"
Concrete is Concrete right? Just find the cheapest guy! NOPE
From $4 per foot to $20 per foot concrete is all over the map. Even more so now with the "Decorative Phase", stamped, stain, overlay, acid stains, epoxies etc. We are in a concrete frenzy but what about just simple basic concrete?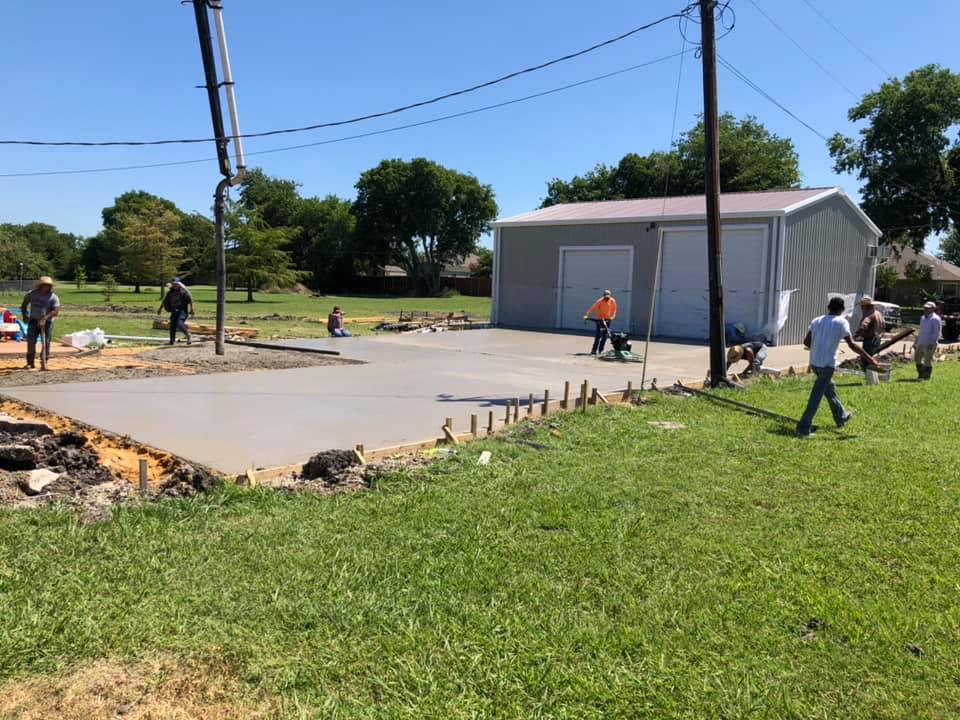 2 Major facts about concrete:
It Cracks period
It turns grey
There are many factors to consider when it comes to pouring concrete as we have learned in our 30 years experience and having a lifelong friend as a concrete inspector.
Let's start with the substrate or what's actually under the concrete.
Soils- what is it? How does it respond to moisture
Grade- making sure your base is level
Cushion sand- not always necessary but absolutely highly recommended to accommodate shifts and voids in the soil
Depth- Concrete on soil should be a consistent min of 4″ on walking traffic concrete, 6″ on driving traffic, min of 2″ for overlay
Rebar- should be a #3 or 3/8′ on a min in a waffle pattern, wire tied and drilled into any existing foundation on max 18″ centers, 16″ preferred and even 10″-12″ on heavier bearing surfaces- this manages the integrity and cracking to avoid separation
In certain parts of Texas- especially DFW our Blacklands, Black Gumbo or Black Clay is especially tough as it contracts and expands terribly with tremendous movement. This is why it is so important to take every measure to buffer this as much as possible.
There is no way to truly guarantee concrete will not crack, it's going to even roads with 2-3′ of substrate and pouring 5,000+ PSI STILL CRACKS!
The main things to be aware of are:
Min 3,000 PSI 3,500 PSI preferred
Good substrate under the concrete
Depth of 4″ for walking traffic, 6″ Driving traffic
16″ On Center for your rebar
Temperature conscious slump to ensure proper curation and manipulation
Be sure to choose a reputable expert that understands and clearly explains and ensures these things as you begin your project. Remember, just because someone works in the concrete business and knows how to make it look pretty does NOT mean they know and understand how to run an entire quality concrete job!
Buildometry would be happy to discuss your concrete project if your in the DFW area. Give us a call today!