How to Create a Comfortable and Stylish Outdoor Living Space
A patio cover is a great way to extend the living space of your home and create a comfortable and stylish outdoor living space. Whether you want to entertain guests, relax with your family, or simply enjoy the great outdoors, a patio cover can help you make the most of your backyard.
At Buildometry, we specialize in designing and building patio covers that are both functional and aesthetically pleasing. Here are some patio cover design ideas that can help you create a comfortable and stylish outdoor living space:
Traditional Lattice
A traditional lattice patio cover is a classic and timeless design that can add charm and character to any backyard. Lattice patio covers provide partial shade while allowing natural light to filter through, making them perfect for sunny afternoons.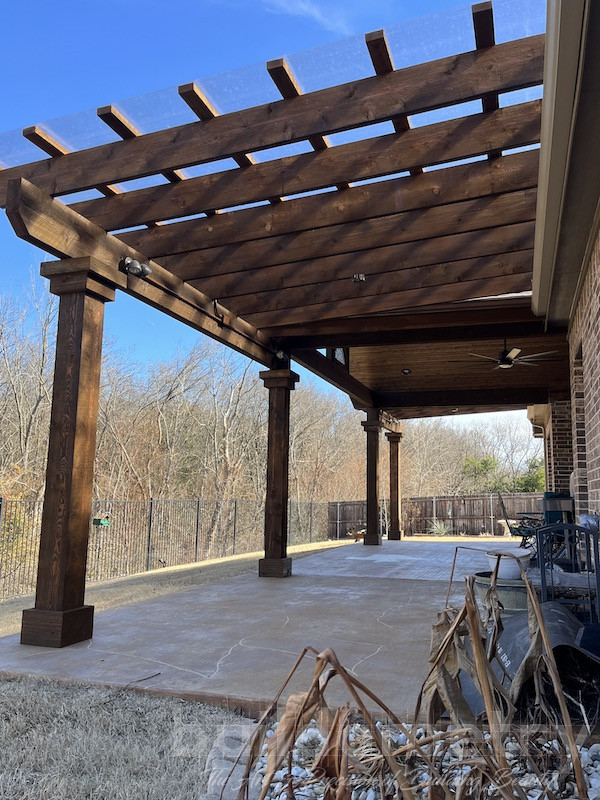 Solid Roof
For those who want full shade and protection from the elements, a solid roof patio cover is the perfect choice. It can be made of materials such as aluminum, wood, or even polycarbonate sheets. Solid roof patio covers are perfect for those who want to create an outdoor living area that can be used year-round.
Outdoor Kitchen
An outdoor kitchen is a great addition to any patio cover, and it's perfect for those who love to entertain. An outdoor kitchen can include amenities such as a grill, refrigerator, and sink, making it easy to cook and serve meals outside.
Lighting
Proper lighting is essential for creating a comfortable and stylish outdoor living space. Consider adding LED lights to your patio cover to provide ambient lighting and highlight certain features of your backyard.
Furniture
Choose comfortable and stylish furniture that will complement your patio cover design. This will help to create a cohesive look and feel for your outdoor living space.
Plants and greenery
Adding plants and greenery to your patio cover can help to create a natural and relaxing atmosphere. Consider adding planters, hanging baskets, or a vertical garden to your patio cover for a touch of nature.
By incorporating these patio cover design ideas, you can create a comfortable and stylish outdoor living space that you'll love. At Buildometry, we have the experience and expertise to help you design and build the perfect patio cover for your home. Contact us today to schedule a consultation and learn how we can help you create your dream outdoor living space.