4 Reasons to Have an Outside Kitchen
While many think of an outside kitchen as a luxury, they're actually a very practical addition to any home. If you've ever wondered whether an outside kitchen was the right choice for you, consider the following four reasons to have one at your home.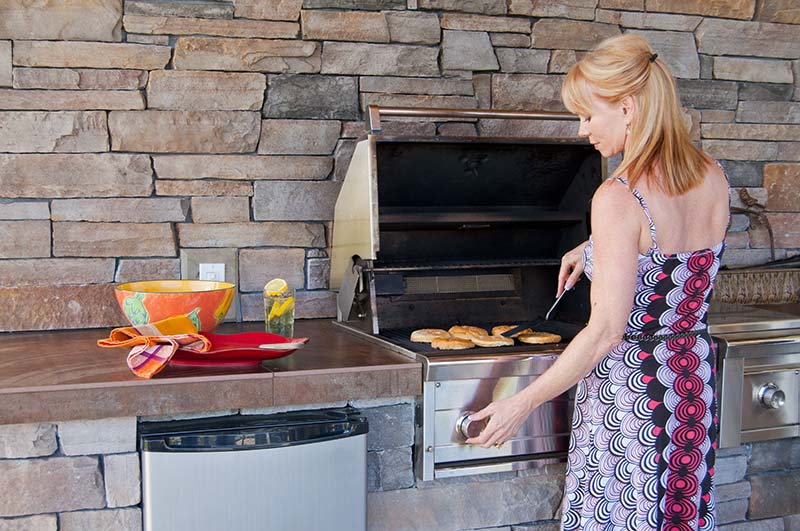 1. Perfect for Summer
There is nothing better than eating a healthy meal outside on a warm summer night with the family. Outdoor kitchens make this easier by cutting down on transportation time (and hassle) between your inside kitchen and outdoor eating area. Parents also have the benefit of being outside cooking while their children play.
2. Raises the Value of Your Home
An outside kitchen raises the value of your home, which is great if you ever decide to sell. You may even come out ahead of what you originally purchased the home for. Even if you don't decide to sell your home, raising the value of it can help increase the value of nearby homes for sale. While this may not seem like a huge bonus, higher home values typically equals safer neighborhoods.
3. Healthier for You
Outdoor kitchens could mean better health for you. When cooking outside, people tend to create meals that are healthier. Even if you ate pure junk outside, however, you have a decreased risk of suffering smoke inhalation if you accidentally burn something. (Don't worry, it happens to everyone) Plus, both the fresh air and sunshine have been scientifically proven beneficial for your mental health.
4. You Want One
At the end of the day, you want an outside kitchen. This fact alone is enough reason to get one, and just think of all the wonderful memories you're going to make with your new home addition.
For more information on outdoor kitchens or to get a quote on building one for your own home, contact us today.