Comparison: Outdoor vs. Indoor Fireplace
Indoor and outdoor fireplaces are both popular options that offer various practical and recreational benefits. Let's take a quick look at several of their pros and cons.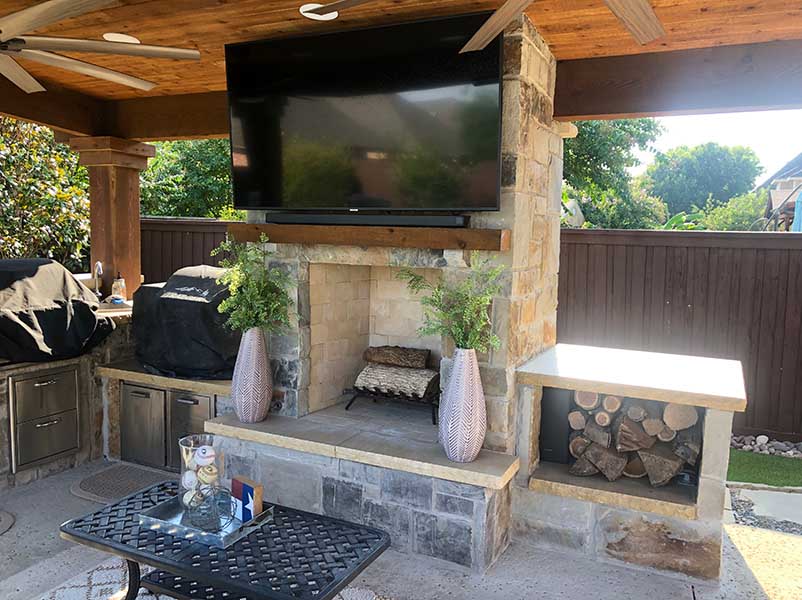 Warmth
Both kinds of fireplace create heat and light. Indoor units can warm up cold winter days; their open-air counterparts come in handy on cool summer or autumn nights. Smoke helps keep insects away.
Safety
Outdoor fires are safer in some ways. There's no risk of leaking harmful gases or smoke indoors. It's easier to extinguish flames before they can cause damage.
Weather
It is possible to use either type throughout the year. Indoor fires become less desirable during hot or humid summer weather, but they're preferable in rainy and snowy conditions.
Parties
Outdoor fires are more appealing if you like to arrange get-togethers involving numerous people. Nonetheless, an indoor unit in the living room might enhance a Christmas or Halloween party.
Space
Both types demand some free space. Fortunately, they can be sized to fit almost any room or yard. It's also vital to have enough seating area and adequate clearance around the fire.
Venting
Most indoor fireplaces produce smoke or gases that must be released outside of the home. A chimney or exhaust vent adds to the cost of installation and periodically requires cleaning.
Resale
Survey data reveals that most homebuyers prefer dwellings with this feature and will pay extra for it. Outdoor fireplaces have become the most popular option, according to Angie's List.
Time
Many Americans want to spend more time outside of the home and workplace. Outdoor fires provide a great opportunity to do so, and there's no need to travel or make long-term plans.
If you'd like to add an attractive custom outdoor fireplace to your property, please contact us today to learn more. Our talented professionals build safe, long-lasting structures at competitive rates.