Artificial Turf: A Perfect Choice for Modern Landscaping
Landscaping trends have dramatically evolved, with homeowners seeking sustainable and maintenance-free solutions. Among these modern solutions, artificial turf stands out as a prime choice. But is it merely about aesthetics? Let's delve into why artificial turf, as endorsed by Buildometry, is an excellent pick for modern landscaping.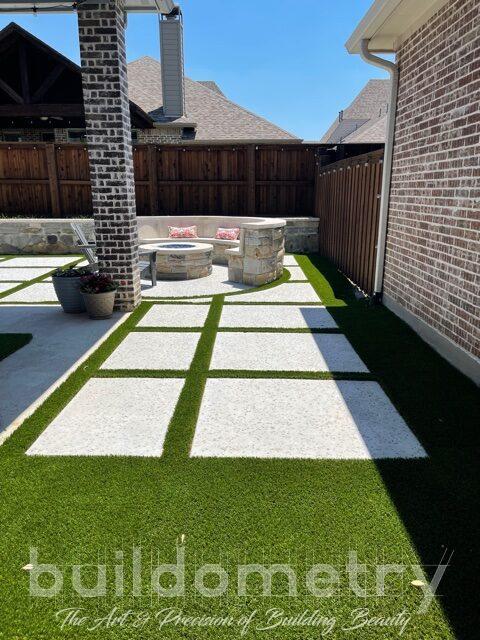 1. Virtually Maintenance-Free
One of the most compelling reasons homeowners are gravitating towards artificial turf is the minimal upkeep. Say goodbye to regular mowing, weeding, and fertilizing. With artificial turf:
No more noisy mowers disturbing your weekend peace.
No watering means significant water bill savings.
An evergreen lawn, irrespective of the season.
2. Aesthetically Pleasing All Year Round
Unlike natural grass which can become patchy, brown, or overgrown, artificial turf maintains a consistent look. Buildometry offers a range of artificial turf textures and hues, ensuring that you have a lush, green lawn throughout the year.
3. Environmentally Friendly Choice
Contrary to popular belief, artificial turf is eco-friendly in several ways:
Water Conservation: Natural lawns consume vast amounts of water. By opting for artificial turf, homeowners can save thousands of gallons annually.
Reduced Chemical Use: There's no need for pesticides, fertilizers, or herbicides, which often seep into the groundwater, causing pollution.
Carbon Footprint: With no mowing or regular upkeep, you're also reducing the carbon emissions associated with gasoline-powered lawn equipment.
4. Durability with Longevity
High-quality artificial turf, like those provided by Buildometry, is designed to withstand wear and tear. Whether it's children playing, pets frolicking, or hosting outdoor events, the turf remains undamaged and retains its aesthetic appeal for years.
5. Safe and Allergen-Free
For families with members prone to grass allergies, artificial turf is a boon. It provides a safe play area for kids and pets without the worry of rashes, itchy eyes, or sneezes. Plus, many turf options are now made with non-toxic materials, ensuring safety for all.
6. Versatility in Design
Artificial turf isn't limited to just lawns. It's versatile and can be used for:
Rooftops or balcony gardens.
Playground areas with cushioned underlayers for safety.
Putting greens for golf enthusiasts.
Around pool areas, offering a non-slip surface.
7. Cost-Effective in the Long Run
While the initial investment might seem steep, in the long run, artificial turf proves to be cost-effective. Considering savings on water bills, lawn maintenance equipment, fertilizers, and the extended longevity of the turf, homeowners find value in this one-time investment.
Modern landscaping is about merging aesthetics with functionality, and artificial turf perfectly fits the bill. It's practical, beautiful, and environmentally conscious. As the realms of design and sustainability intertwine, trust Buildometry to guide you in making informed decisions for your dream landscape.
Eager to transition to a fuss-free, green, and eco-friendly lawn? Reach out to Buildometry, your trusted partner in modern landscaping solutions.