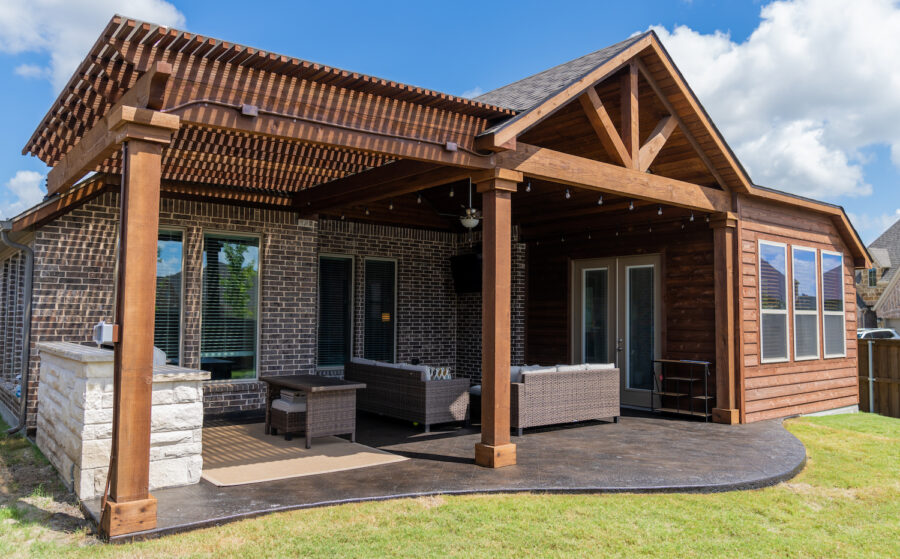 Buildometry is a group of professionals who work hands-on every job communicating with you to ensure collaboration, clarity, and exceeded expectations. We make your McKinney patio cover a priority to ensure the highest level of attention, quality and delivery. We look forward to earning your trust and making your vision a reality.
McKinney Patio Covers
At Buildometry we see the outdoors as an extension of your home. Texas offers an abundance of beautiful weather, and we believe everyone should have the opportunity to capitalize on it. A McKinney patio cover creates the perfect outdoor living space. Not only will a well-constructed outdoor space provide enjoyment for the homeowner, it can boost the overall value of the home, positively influencing resale value.
Oftentimes, the installation of a patio cover will help with the overall cooling costs of the home as well, especially in western-facing backyards where the summer sun can be fierce. Covered areas can block direct sunlight reducing the amount of heat generated during peak sun hours. They can also protect interior furniture and fabric from direct sunlight. So, you can add energy efficiency and sun protection to the form and function benefits covered patios bring to your home.
Patio Cover Construction in McKinney, TX
We construct our patio covers to last. From the design phase forward, you can expect a focus on longevity. Our specifications are set above code standards to ensure years of structural integrity without sagging, warping or other such failure. We use custom-made 1/4″ steel, 8 bolt post brackets and 5/8″ hidden beam bolts, providing a sturdy, sound base. We understand that investing in the right craftsmen is what enables us to build at the level we do.
McKinney, Texas Pergola Contractor
Whether you're looking for a simple pergola structure or a statement-making space, Buildometry can construct it. Our first step is going to be listening to you – to what you want, what you envision, what you are looking to solve for. With our experience and skill, we can build the pergola of your dreams.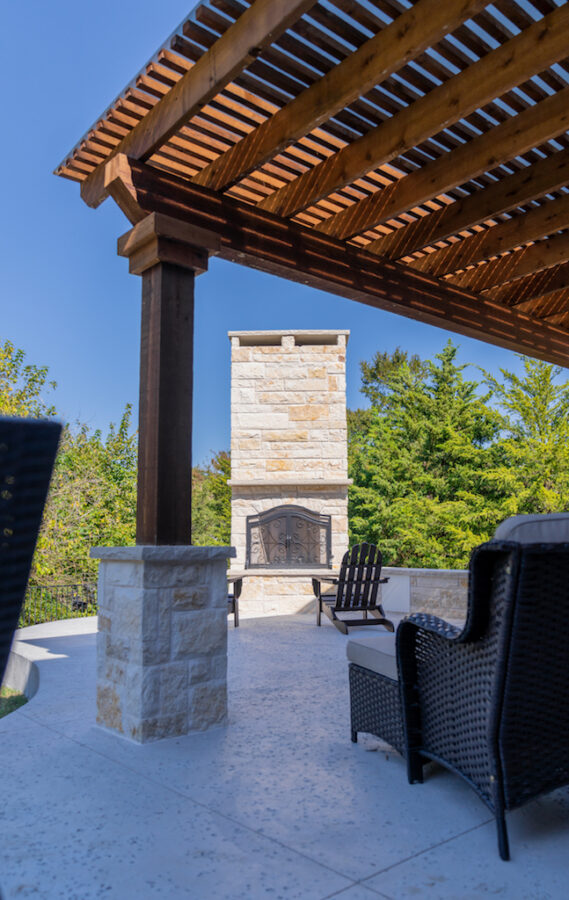 What Our Clients Say
★★★★★
"Ronnie and his team did a fantastic job with building our outdoor patio. Everyone was very respectful and before the crew left each day the POC checked to make sure we were happy. Ronnie keeps integrity and quality at the forefront of his business. My family and I saw that in every discussion and the product he delivered. I highly recommend Buildometry!"
★★★★★
"Couldn't be happier with Ronnie Natali and Buildometry! Buildometry transformed our sun-exposed, outdoor patio into a shaded, patio oasis. The crew was experienced, diligent, prompt, and professional the whole way thru. What a beautiful patio cover they made for us, 5 stars. From planning stages to the build, Ronnie and his crew had the knowledge and experience to help formulate and transform our ideas into reality. Our new patio is essentially adding another room onto our house. Beautiful cedar beams, tongue and groove ceiling, ceiling fans, dimmable overhead lighting, and a built-in TV box, we kept asking for more and Buildometry delivered in a big way. I highly recommend Buildometry to build your next patio cover. Thank you Ronnie and thank you Buildometry!"
Let's Get Started on Your Outdoor Living Project!
We specialize in outdoor living spaces and positive customer experiences. With over 30 years of building experience, we've built a reputation we're truly proud of. Because we're owner-operated, you can expect to see us on the job site, communicating regularly to ensure collaboration and clarity throughout the project. We inspect what we expect. And, we expect to deliver you an exceptional product.
Let's discuss your outdoor dreams today. Large or small, commercial or residential, Buildometry is your solution for a beautiful, well-constructed patio cover or pergola you will enjoy for years to come. Contact us today to get started.
Complete Outdoor Living Contractor
Our services don't stop with patio covers and pergolas. We offer a full range of services to build your total outdoor living space.
ABOUT MCKINNEY
As of May 2017, McKinney was the third-fastest-growing city in the United States. In 2014, McKinney was rated No. 1 by Money magazine as "Best Place to Live" in America. It's not hard to see why. With a growing range of homes and services, and with relatively mild weather year-round, McKinney is a great location for those who love to live outdoors. Custom patio covers and pergolas allow homeowners to create outdoor living spaces that are shady in summer and protected from rain and inclement weather. The addition of a firepit or outdoor patio means outdoor spaces are enjoyable even a cold snap. Buildometry can help make the dream of year-long outdoor living a reality in McKinney and around DFW.