Unique, beautiful, and durable, alloy aluminum can be used to create remarkable outdoor living spaces. Highly functional, it is a smart exterior building material with a broad range of applications. We've partnered with industry leader, 4K Aluminum, to bring our commercial and residential customers the very best available in exterior contemporary aluminum pergolas. Known for their manufacturing of premier aluminum with industry leading strength, precision engineering, and superb aesthetic options, 4K Aluminum products are a natural correlate to Buildometry's commitment to bringing art and precision to beautiful building.
Benefits of Aluminum Pergolas
Backed by a 20 year warranty, our customers can be confident in their investment in exterior aluminum. Constructed using aircraft-grade alloys, our 4K Aluminum solutions offer many desirable benefits, which include:
Low Maintenance Aluminum
All exterior surfaces will benefit from a good washing from time to time, but beyond this, you can expect your aluminum to be maintenance free for many years. Unlike exterior wood structures, there are no annual sealing requirements, no every-couple-of-years restaining or repainting tasks. There is no worry of warping, buckling, or decay. You will never need to polish your exterior aluminum. It is designed to last and age beautifully.
Strength
With exceptional structural integrity exceeding that of vinyl or wood, outdoor aluminum stands up to strong wind, heavy snow, and wet leaves. And, because none of the products is composed of traditional thin, roll-form aluminum, there is no risk of denting or bending over time with normal use. In fact, given its strength, aluminum is the ideal solution for a patio covering cantilevering.
Superior Aesthetics
Internally attached with hidden, color-matched screws, our aluminum construction is seamless and bracket-free. There is no wood grain to contend with; you can expect a sleek, smooth surface. With tan, grey, espresso, and white premier powder coat color options, 4K aluminum integrates beautifully with diverse landscapes, styles, and designs.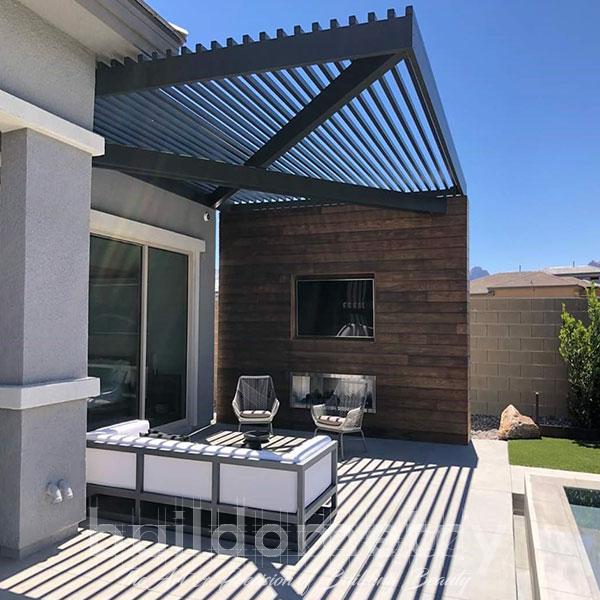 If modern isn't your style, though, consider a traditional wood pergola, with classic styling and many of the same benefits as metal or aluminum pergolas.
Applications
Exterior aluminum elements create an accent one-of-a-kind outdoor living space. Applications go as wide as the imagination and include:
Pergolas – durable and beautiful, aluminum pergolas create some shade but allow for natural lighting. Incorporating unique panel design options, aluminum pergolas can produce stunning artistic shade patterns.
Cantilever Canopies – given its superior strength, aluminum can cantilever off just two posts, supporting canopies up to 15 feet wide and 12 feet extended. And even larger sizes can be constructed with special steel inserts.
Motorized and Adjustable Louvers – 4K aluminum blind panels offer flexibility. When closed they efficiently block the sun but can be opened when one wants to take in the view or feel the breeze.
Decorative Panels – our 4K Pergo- Soleil™ Panels can be used in pergolas, as privacy walls and gates, or as stunning, stand-alone focal points. They are an excellent solution for pool equipment screens, trash can enclosures, trellises and so much more.
Aluminum pergolas are a smart and versatile outdoor design material with noteworthy longevity. Enabling custom design and construction, it offers beautiful possibilities for your outdoor living area. Contact us today to learn more about how this innovative product can enhance your outdoor space.