Add A Pergola to Your Outdoor Space
Wooden pergolas are a favorite among Buildometry customers because of their many benefits.
Below you'll find the top three reasons you should consider installing a pergola in your outdoor space: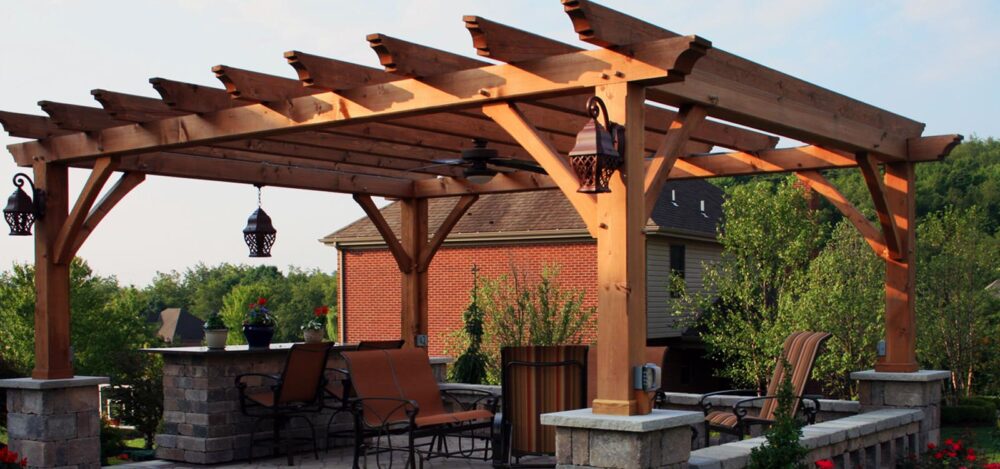 Tell A Story
An outdoor pergola is a great way to tell your family's story. Pergolas can be constructed in various shapes and designs, ensuring that the final piece reflects your personality. Once the pergola is installed, you will have access to endless opportunities to further express your tastes.
For example, many clients have gone on to cover their pergolas in strands of ivy or flowering vines, adding interest and height to their garden areas.
Others choose to paint their pergola in colors that accentuate the colors of their home's exterior, creating a beautiful visual effect.
Outdoor Entertaining
Outdoor pergolas offer a centralized space for social gatherings. Consider stringing lights through the beams of your pergola and seating your outdoor furniture nearby. They can also be a fun way to display party decorations, such as banners or streamers.
Pergolas can also offer a place to install an outdoor kitchen or grilling area.
Not only will your pergola add definition and bring your outdoor area together cohesively, but it can offer some protection from the direct sunlight. Because our pergolas are constructed from high-quality material, you can be sure they will survive outdoor weather conditions.
Add Appeal
Are you considering a move or trying to add interest to your investment property? A new outdoor structure could be the solution. Pergolas help create a sense of atmosphere and increased value to one area of the home that is often neglected during resale—the yard space. A pergola will attract potential buyers and—due to the number of benefits they offer–may even become one of your best-selling points.
At Buildometry, we are happy to offer high-quality, custom-built pergolas. Contact us today to start building the outdoor space you've always dreamed of.